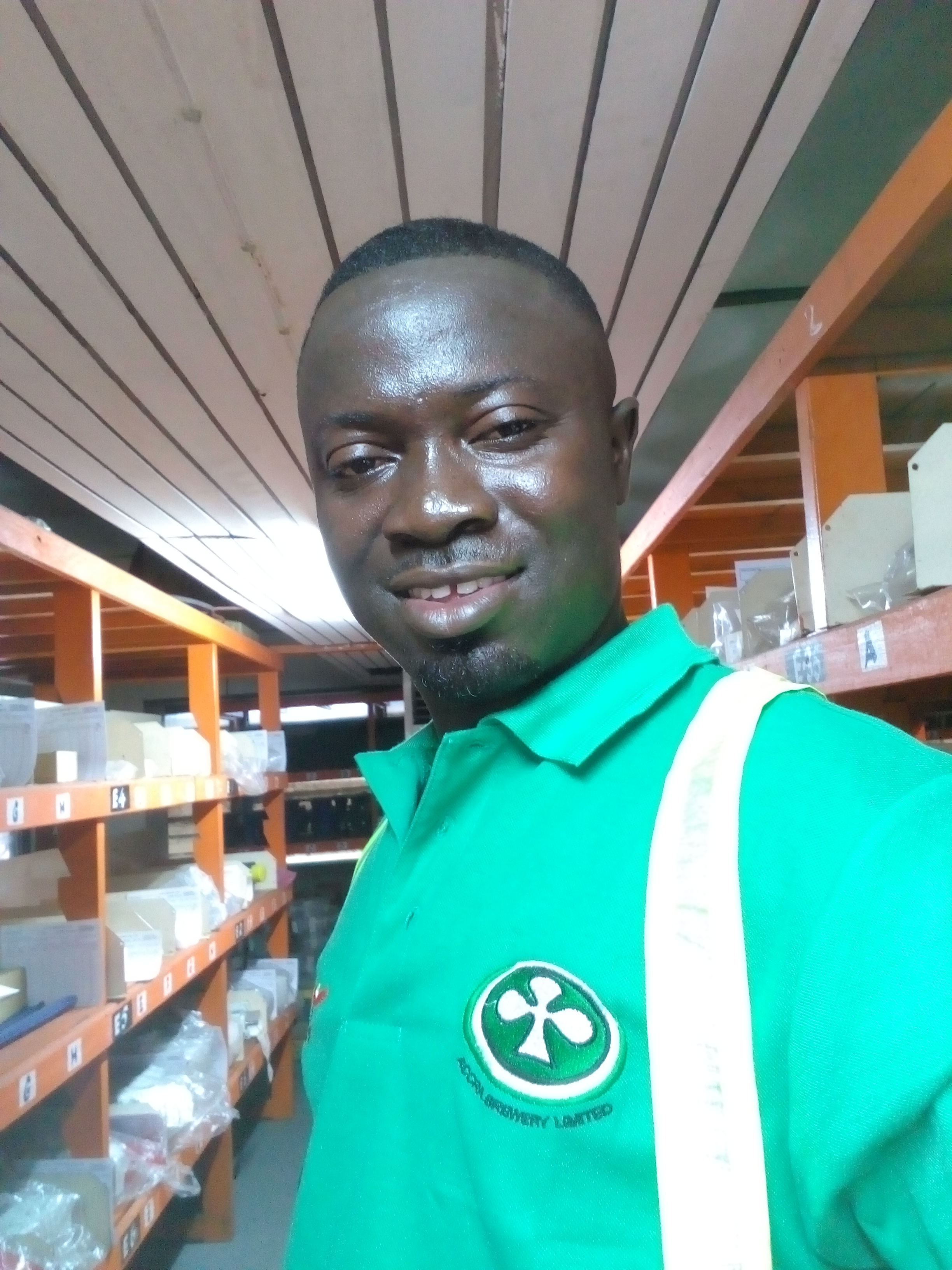 Felix Oppon
Mechanical Engineer
Candidates About
A highly talented, professional and dedicated Mechanical Engineer to achieve high career growth through continuous process of learning for achieving goal and keeping myself dynamic in the changing scenario to become a successful and professional Engineer. Know the value of time and work in the direction of organization's growth as well as for self progress by sheer hard work and perseverance.
Career Summary
Education
Higher National Diploma (HND) Mechanical Engineering September 2007 – June 2010
Kumasi Polytechnic
Certification Courses
Dry End Technology – Krones, Rosenheim Germany
Module Labeller – Krones , Neutraubling Germany
Filling Technology ( Bottle Filler ) – Krones, Neutraubling Germany
Cleaning Technology ( Bottle Washer ) – Krones, Flensburg Germany
Topmatic Labeller – Krones, International Brewery Ltd, Ilesa Nigeria
First Aid – Accra Brewery Ltd, Accra Ghana
Working Experience
Machine Specialist (Packaging Dept) November 2014 – present
Accra Brewery Ltd Accra – Ghana
Duties and Responsibilities
Monitor and improve machine performance with focus on OEE, operating efficiency and safety.
Carry out inventory and spare parts control.
Coaching and mentoring of mechanical national service personnel's and attachment students in the packaging department.
Planning, scheduling, and execution of maintenance using cleaning and tagging approach.
Maintaining safe, healthy and risk-free working environment by the implementation of safety, health & environment legislations and procedures.
Ensuring that artisans execute maintenance plan to standard and optimize artisan time utilization.
Optimization of team processes and facilitates effective team dynamics.
Carry out Formal Failure Analysis (FFA) on machine breakdowns.
Identification of problems or potential problems.
Mechanical Technician (Packaging Dept) October 2011 – November 2014
Accra Brewery Ltd Accra – Ghana
Duties and Responsibilities
To operate machines and set up machines for production.
Evaluate and troubleshoot machine issues, perform repairs and resolve equipment issues as they occur.
Instillation of new equipments and modification of old ones.
Carry out both preventive and corrective maintenance in order to make equipments reliable and available for production.
Act as production shift team leader in the absence of the team leader.
Carry out daily, weekly and monthly lubrication.
Replace, fix and realign machine parts and accessories in line with production specifications
Examine and carry out tasks on broken machine parts and identifying defective parts and give recommendations to supervisors on repair requirements.
Writing of maintenance report and bringing it up in daily production meetings with the packaging manager, packaging engineer and team leaders.
National Service Personnel (Packaging Dept) November 2010 – October 2011
Accra Brewery Ltd Accra – Ghana
Duties and Responsibilities
Operating of packaging equipments.
Supporting the maintenance planner to plan maintenance day activities.
Assist in the installation of new equipments and modification of old ones.
Carrying out daily checks on the plant for defects identification.
Carrying out daily lubrication on the various machines.
Inspections, cleaning and tagging of the equipments.
Key skills
Result-oriented, fast learner and very hardworking
Self-motivated, effective time manager and a team player
Work under little or no supervision
Good communication and interpersonal relations
Good in MS office ( word, excel, power point and outlook)and internet application
Achievements
Coaching mechanical artisans and operators to perform autonomous maintenance
Development of process input and output monitoring sheet
Modification of conveyor wearstrips
Projects
Converting of 180° conveyor curve which was giving a lot of issues to 90°
Defects elimination using clean and tag approach
References
Amos Osei-Gambrah
Packaging Engineer
Accra Brewery Ltd
+233200000280
Apeletey Vorsah
West Africa Packaging Specialist
Accra Brewery Ltd (ABinBev)
+233200000293
Ismaila Abdulai
Packaging Unit Manager
Accra Brewery Ltd
+233200000343
Contacts
FELIX OPPON JUNIOR
MECHANICAL ENGINEER
Address: P.O.BOX GP351
Date of Birth: 25th August, 1985 City: Accra – Ghana
Nationality: Ghanaian Tel: +233554334163/+233501323698
Email: felix.oppon@gmail.com